The FREE Web Guy's Enterprise Help System™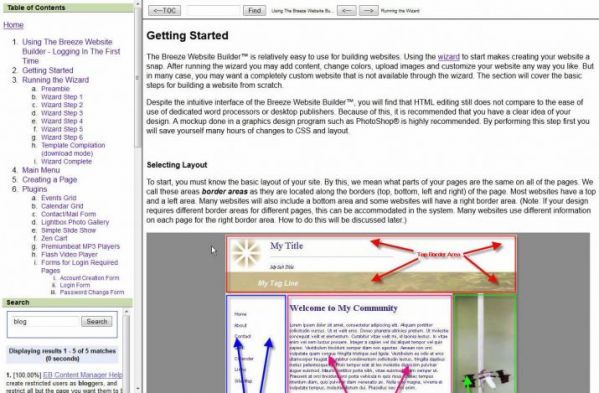 The FREE Web Guy's Enterprise Help System™ is a help system that has many features of some very expensive help systems, but it is FREE! Although this system is not designed so that any dang fool can set it up, I think that you will find that for a web guy, this thing is as easy as pie to configure and add content. So if you are a dang fool, you will have to pay the big buck to someone else, but if you are a web guy (of almost any caliber), today is your lucky day!
The FREE Web Guy's Enterprise Help System™ includes some powerful features typically only found in enterprise-level help system products. The system utilizes a frame with left and top navigation. The top includes forward and backward buttons to navigate through the help topics sequentially. Also in the top is a search box for finding words or phrases on the current help topic being displayed, and a button for hiding or showing the left navigation pane. In the left navigation pane is the table of contents (TOC), and a search engine provided by Sphider™ that indexes your entire help system for quickly locating search terms. The TOC is easily setup by editing one HTML TOC file to point to your topic files. You can easily create context-sensitive help links or buttons in your application because the system takes anchor references in the URL to locate and frame help topics without any further configuration on your part. Click here to go to the download page.